You're probably thinking, "Where in Green Bay can I get a delicious margarita (or two) so I can celebrate this joyous Mexican holiday?" Well don't worry, friend. We've got you covered.
Margaritas are a relatively simple drink: a shot of tequila, some orange liqueur, a squeeze of lime juice, and a little bit of salt on the rim of the glass. But when you want something that's extra special, there are several places in Green Bay to choose from… and as an added bonus, they all have amazing food to go with your drink.
Of course, the first place that comes to mind when you think of margaritas in Green Bay is Margarita's. It's in their name, after all! They have so many options, from real fruit margaritas to skinny girl margaritas to top-shelf margaritas and more! The Discover Green Bay crew highly recommends the Sangria Swirl or if you're feeling brave, the Golden Margarita. This drink starts with their famous house Margarita, then they add Grand Marnier and either Jose Cuervo Gold Tequila or 1800 Reposado. It isn't your basic, everyday margarita, which makes it perfect for your Cinco de Mayo celebration!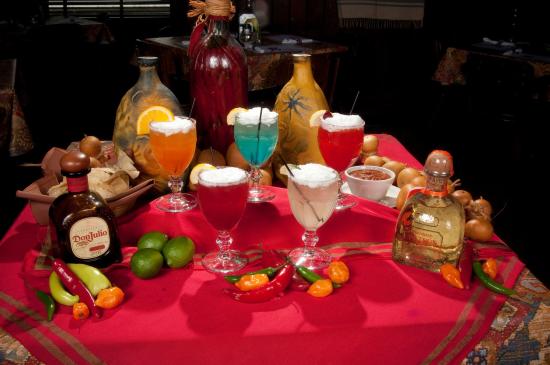 Los Banditos is another great option for celebrating Cinco de Mayo! They have been a Green Bay staple for over 25 years, and the reason is simple: they serve delicious food and drinks! As far as their margarita menu goes, they offer either a classic golden margarita or six different flavors of their house margarita, which you can order by the glass, half liter, or liter. If you can't make it there on Cinco de Mayo, don't worry. You can make a date with your friends on a Wednesday and get half off all house margaritas from 3pm to close. While you're there, be sure to try an order of their Chile Con Queso. Many locals consider it the best in the area!
If you're into craft cocktails, you're going to love the margaritas at Vintage Cantina. They have several of their own (delicious) variations on this fan-favorite cocktail, and each of them are so well-balanced and feature only the finest ingredients. Choose from peach, grapefruit, coconut, pink lemonade, fruit punch, or salty watermelon. Or, keep it classic with the original house margarita. While you're there, you'll definitely want to order a few tacos (try the Juicy Lucita and the Baja!) and of course, an order of chorizo cheese dip for the table.
Caliente La Fiesta Mexicana has been perfecting their signature margarita recipe for years, and it really shows! Build your dream margarita by choosing from 8 different flavors like prickly pear, pomegranate, and mango either on the rocks or blended. Then, choose whether you want it regular or "fiesta" size! They also have seasonal flavors available, so be sure to ask what they're featuring when you visit. And, if you like a little bit of spice, try the Jalapeno Marg which is made with El Jimador silver tequila, Cointreau, fresh lime juice, agave nectar, fresh orange juice, and fresh diced jalapenos. Yum!
When you want a BIG margarita, you have to go to Los Magueyes. Yes, they serve a "regular" sized 12 oz. margarita, but they also offer a "jumbo" 27 oz. option and a "monster" 44 oz. option. Or, you can just order by the pitcher! They offer a classic lime flavor, as well as piña colada, strawberry, raspberry, mango, banana, and peach. With three locations in Green Bay, Los Magueyes is always a convenient option for you and your crew. Be sure to come hungry, too, because their food is amazing. We recommend El Maguey's Monster Chile Verde Wet Burrito or the Fajitas Texanas.
At Mexico Lindo, you can choose from a few options when it comes to margaritas. They serve a "Texas Margarita" which is made on the rocks with gold tequila, Grand Gala liqueur, and fresh limes and oranges. Their house margarita is made with 100% lime juice, triple Sec, and their house tequila. You really can't go wrong with either option! Or, if you're celebrating Cinco de Mayo with a group of friends, you could share their "Bazooka Margarita" tower, which is a 100 oz. tower full of ice cold margaritas. For serious drinkers only!

Where are you planning on ordering your Cinco de Mayo margarita? Let us know on our Facebook page!