Union Hotel Supper Club
Supper clubs are a rich part of Wisconsin's culinary identity, and we love their backstories almost as much as the hearty helpings, sizzling steaks and potent cocktails.
Especially valued but exceedingly rare is supper club ownership by multiple generations of the same family. What a bonus when the Green Bay supper club's history also includes stories about the Packers.
Such is the case at Union Hotel, which is one year older than the pro football team and a longtime gathering spot for retired players and other employees of the Packers franchise. For decades, Packers alums of the Ice Bowl era — Boyd Dowler, Paul Hornung, Jerry Kramer and others — quietly found their way to the De Pere business to eat. Some slept there, too.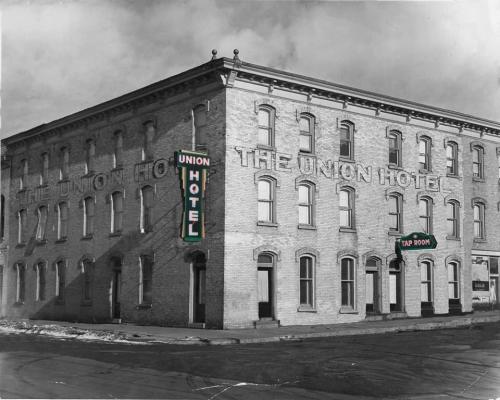 100 Years and Counting
Union Hotel's fourth-generation owners don't make advertising a priority and are lowkey about football legends who became loyal customers. A single neon sign hangs outside, but visitors find no clear clue about how to enter the 1883 brick building, which is on the National Register of Historic Places. Word of mouth, and social media, pique the interest to hunt for more.
The Boyds rewind the clock, too. In the dining room is 1961 wallpaper with a French country theme. In the lobby is the state's last phone booth that works and is in its original location. Before Christmas, carolers dress in Dickens-era attire and serenade from one table to another.
At ground level, the frozen-in-time dining room historically cuts off food orders no later than 9 p.m. Doesn't matter who you are, and in the 1960s that included Coach Vince Lombardi, who reportedly never returned.
Upstairs is tidy, modest lodging, including the former quarters of Gerald "Dad" Braisher, who lived at Union Hotel about 40 years and was the Packers' equipment manager during a majority of that time. The bedroom's carpeting incorporates the team's "G" logo, which Braisher had a hand in designing.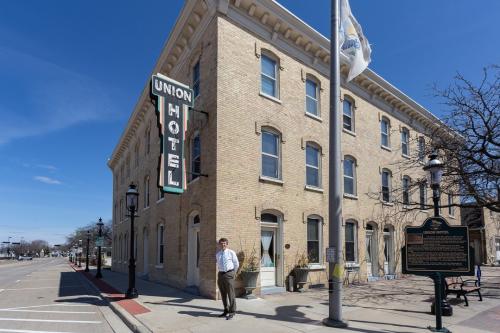 McKim Boyd and two sisters — Mary and Ann — are co-owners from the fourth generation. Their great-grandfather, August Maternowski, swapped one of his farms for what was then a boarding house.
Wife Antonia and their five daughters cooked from-scratch meals for a mix of short- and long-term tenants in the 24 guestrooms, just up the hill from a railroad station. Rural high school students stayed for $4 per week (including breakfast and dinner) because it was easier than a 10-mile, one-way commute.
During Prohibition, Union Hotel had a hidden still, but customers were allowed only one serving of illicit liquor, so the suspicion of roaming feds wouldn't be triggered. The hotel's third floor was nicknamed the "avenue of broken dreams" because tenants included guys in the throes of divorce.
That included Arnie Herber, a Packers quarterback from 1930-40 and Pro Football Hall of Fame inductee in 1966. A 1946 hotel ledger showed that he stayed in room 31 for two months and paid $8 per week for room and board.
What's for Dinner?
The food today? Diners begin with dinner rolls (using a generations-old family recipe) and a relish tray of raw veggies, house-made ham salad and liver paté. Expect classic supper club entrees done well, be it a dry-aged and grilled porterhouse, roast duckling with orange sauce or pan-seared ahi tuna.
Get a full-blown throwback to vintage times by ordering spinach salad with hot bacon dressing, or a wedge of iceberg with bacon and bleu cheese. For dessert: Schaum torte, an airy meringue shell filled with ice cream, topped with strawberries.
Sure, bartenders know how to make a mean Manhattan and Old Fashioned, but don't dismiss the wine list: In the cellar are around 350 bottles. Arrive early: Some still order food at the bar and are seated for dining when their table was ready.
Look for McKim to share Union Hotel tales as you imbibe, and notice what he wears: At least 1,000 neckties are in his collection (from relatives and customers); they cover every decade since the 1930s.
Until pandemic times, Union Hotel only accepted reservations for those pre-Christmas caroling nights. Then the bar closed and dining was by reservation only. Although much of the supper club's business practices are back to normal, meal reservations remain the way to go. Walk-ins are welcome as space permits.
"Our family will have survived two pandemics," McKim notes, and in the wings are generations five and six.
If These Walls Could Talk
Find historic hotels with colorful backstories throughout the Green Bay area. Check our hotel listings for the perfect place to stay.