Plan the Ultimate Winter Family Getaway
As the tundra freezes and snow blankets the area, Green Bay might surprise you with its many family favorite activities. Follow this guide to winter fun.
Winter in Green Bay is no time to stay inside. We guarantee these family-friendly winter activities will be "snow much fun!"
Here's Everything Nice about Snow and Ice
The options for traversing beautiful snowy landscapes are plentiful in Green Bay, but let's start at two nature preserves. The Bay Beach Wildlife Sanctuary, open to the public year-round with no admission, has 6.5 miles of trails to hike or cross-country ski. As you're trekking the trails, look for native Wisconsin animals including red fox, white-tailed deer, sandhill cranes and wild turkeys. A feel-good story: The Sanctuary receives thousands of injured and orphaned animals each year with the goal to release as many into the wild as possible.
Next stop, the Brown County Reforestation Camp, which boasts 1,600 stunning acres for hiking, classic and skate cross-country skiing, snowshoeing and fat tire biking (with bikes available to rent). By the way, three miles of the 19 miles of trails here are lit at night, so you can ski under the lights. Best view of the groomed trails: From the top of the on-site lookout tower.
The NEW Zoo, part of the Reforestation Camp winter wonderland, is another must. Watch the otters and lions play in the snow. The zoo is open every day, including holidays.
Also in Brown County, visit Barkhausen Waterfowl Preserve (nine miles of ski trails) and Neshota Park (six miles of ski trails). There are snowshoe trails and warming shelters at both. Baird Creek, an urban ecological gem, has cross-country ski trails and hiking opportunities. Birders will love this spot, with lots of winter winged interest. The Fox River Trail has unplowed portions for cross-country skiing and snowshoeing, and plowed portions for a good old-fashioned winter hike.   
Whether or not you're able to snag Packers tickets for the fam, you will want to experience Titletown, a frozen tundra that has become a favorite winter family destination thanks to an ice skating rink (ask about renting an ice bike!), a tubing hill and a full-sized football field. Defrost with a hot chocolate at the 46 Below Bistro (yes, named for the wind chill registered during the famed 1967 Ice Bowl NFL Championship game at Lambeau). Ice sculptures and twinkling lights add to the sparkle factor.
Winter Events to Produce Warm Memories
Wisconsin is known to find just about any reason to celebrate, and Green Bay is no exception.
Green Bay Botanical Garden Winter Celebration
This free event, typically the last Saturday in January, includes a scavenger hunt and an opportunity to snowshoe. The garden also has several guided hikes during the winter months, with snowshoes provided for the cost of admission. Be dazzled: From the end of November to the end of December, the garden is lit up by hundreds of thousands of sparking lights for a scene of nature like no other — they call it their Garden of Lights event.
Titletown Winter Jubilee Light Show
Here's another place where they light up the night for the holidays. This show of lasers and lights is projected on the west façade of Lambeau Field, with the best views from Titletown's Plaza near Ridge Road. Oooh and ahhh at the fireworks too. This light spectacular runs end of November through December.
Downtown Green Bay Winterfest
Held annually in January in the city's Broadway District, this fest serves up everything families love about winter. See ice sculptures being chiseled, visit alpacas and other winter animals, let the kiddos take part in activities and games to their heart's content and partake of the goodies from food trucks.
When It's Time to Head Indoors
Need to warm up? Head inside to cheer on the Green Bay Gamblers hockey team at the Resch Center. The Gamblers are a United States Hockey League Tier 1 junior hockey team, so the action is fast and entertaining, even for casual hockey fans.
How about a little friendly family bowling competition at Ashwaubenon Bowling Alley & Family Fun Center, which has 60 lanes plus bumper bowling for the beginners.
If you have teens in your group, there's Edge VR Arcade with 80 games in its library. Consider one of the "experiential" offerings — we like the one where you can travel to the depths of the ocean, virtually that is, on a cold winter's day.
Favorite Hotels for Winter Stays
Pick a place with a pool to provide the counterpoint to all that frozen water you'll experience in Green Bay. Favorites include Tundra Lodge (with an indoor aquatic playground) and Comfort Suites (with an indoor water park).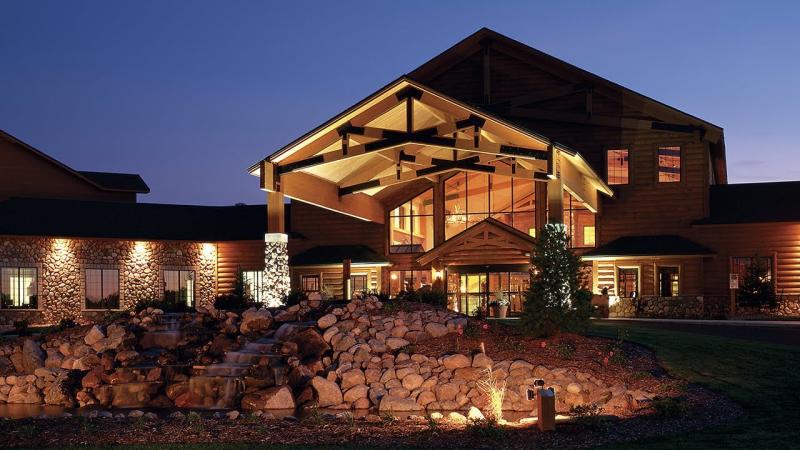 Comfort Food Is on Winter Menus
Eat in a cozy, heated igloo at Hagemeister Park. The original Hagemeister Park was the first home of the Green Bay Packers (1919 through 1922).
Gobble up a burger at classic diner Al's Hamburgers, a gourmet grilled cheese at 888 Cheese & Co. or a seasonal offering from 1919 Kitchen & Tap — all three also have kids' menus.
Kroll's West has a menu section dedicated to "hearty dinners," so start there.
Plan Your Getaway
Order our destination guide to find even more ways to play this winter.