Spend a Perfectly Vintage Weekend in Green Bay
Retro is in, and Green Bay's antique malls have treasures to uncover. Discover where to hunt for vintage finds and where to go to see the past perfectly preserved in time.
There's so much history in Green Bay that it's no wonder the area is filled with stores teeming with vintage decor and clothing, along with tourist destinations that will transport you back in time. Here's where to go if you too daydream about bygone eras.
Plan Your Vintage Shopping Excursion
If you're someone who'd rather be at a flea market than anywhere else and is constantly adding to an enviable collection of antique finds, you need to include these Green Bay antique shops in your weekend itinerary.
First, there's Wonderland Vintage Market, a beautifully curated, 7,000-square-foot paradise located near downtown and packed with 50 vendors. It's sure to appeal to diverse vintage tastes. Looking for midcentury-modern finds? They've got lamps, furniture and more from the 1950s and 60s. Old-fashioned holiday decor? They have it in spades. And heaps of vinyl records for those turntable enthusiasts out there.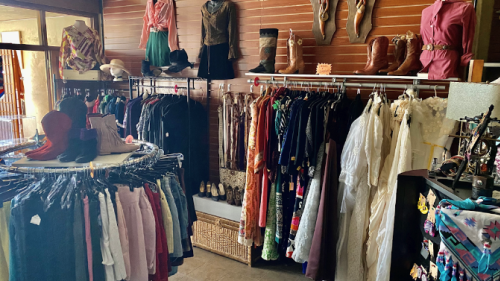 Next, don't miss The Vintage Lair, found in the Broadway District. It's a small but mighty vintage-filled boutique, with clothing and jewelry from past decades that'll make you swoon. And if you're in the mood for something quirky, like an authentic disco ball, a telephone of yesteryear or a groovy painting, they'll have you covered there, too.
For traditional booths chockfull of vintage goodies, look no further than the De Pere's Antique Mall of Greater Green Bay. Punctuated with rare antiques and sought-after collectibles, you'll enjoy the throwback neon signs, timeless furniture and holiday finds. They also have a free flea market that runs from July through October.
Back in downtown Green Bay, swing by Spark Haus Vintage. Specializing in goods from the 50s to the 90s, colorful, unique gems abound here, like rhinestone-encrusted purses from the 70s, cheeky mugs and way-too-cool clothing.
Held four times a year, the Green Bay Vintage Market is a pop-up shopping experience that's not to be missed. Held within The Barrel Haus at Badger State Brewing Company, you'll be delighted to view the wares from over 60 vendors, ranging from vintage clothing to retro home goods like embroidered wall art and glassware.
Travel Back in Time
Once you've gotten your fill of vintage shopping, you can further immerse yourself in history at Green Bay's many historic sites. First, there's the Ashwaubenon Historical Society & Museum, where tramp art is on display, along with exhibits depicting the history of the area.
Next, head to Hazelwood Historic House Museum, the city's only historic house open to the public that still resides on its original site. Nestled in the Astor Historic District, the 1837 home is a study in Greek Revival architecture, and you're sure to adore all of the historically accurate furniture and Victorian decor that's showcased throughout the home.
For something that might get your adrenaline going a bit more, visit The Automobile Gallery, right by the Fox River. While it also serves as an event center, this impressive space displays an entire gallery of classic cars, like a 1912 Maxwell and a 1963 Corvette.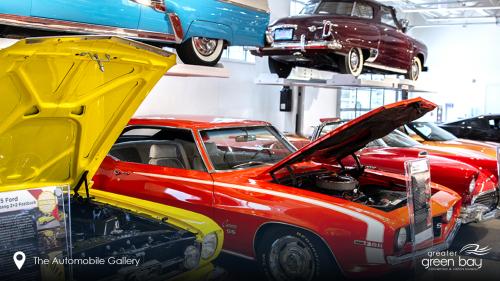 If you're holding an event in the Green Bay area and want to incorporate some vintage flair into the aesthetic, look to Glass and Brass Vintage Rentals. Their offerings are truly eye-pleasing and are guaranteed to make any gathering look Instagram-ready in no time. From crystal dessert stands to amber goblets to brass candlesticks, the styling will take your guests' breath away, and transport them to a time long ago.
Shop On!
The Green Bay area has a huge collection of thrift stores full vintage greatness. Continue your treasure hunt here.