It's Tailgate Time! Stock Your Cooler with These Local Craft Beers 
Don the green and gold and head to Lambeau — it's time for a tailgate party! There's nothing like breathing in the savory goodness of a burger grilling while you crack open a beer with hundreds of other football fans. In Wisconsin, we do it up right: burgers, brats and local brews. Be the legend of the tailgate by stocking your cooler with this six-pack of Green Bay craft beers.
Badger State Brewing – Game Day IPA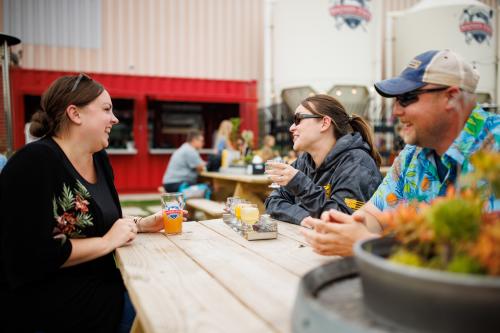 Located in the Stadium District near Lambeau Field, Badger State Brewing brews more than just beer. They also make their own hard ciders, hard seltzer, and soon, coffee. All of Badger State's products highlight local producers, and the Game Day IPA is hazy, citrusy and smooth, made especially to celebrate Packers games. Galaxy and Mosaic hops are what give it that extra flavor punch when you take a sip.
Copper State Brewing Co. – Good 'n Ruddy
A Green Bay craft beer favorite! When Copper State Brewing Co. began, the owners didn't know how to make beer. They bought the building thinking they'd open a coffee shop — but it turned into a combo coffee shop, brewery and restaurant. Good 'n Ruddy is an amber ale with a robust and toasty taste, punctuated by light and sweet caramel notes. It may have a ruddy complexion (a good thing!) but it also has a clean finish.
Hinterland – Packerland Pilsner
Husband and wife team Bill and Michelle Tressler started Hinterland in 1995 with a goal of challenging palates with something new: exciting craft beer flavors. They offer nearly 30 brews celebrating different parts of Wisconsin life. Packerland Pilsner was and always has been a celebration beer — it was brewed as a toast to the Packers' championship in 1997. The European pilsner has been modified since that happy day; the current version uses German Noble hops and Czech pils yeast to create a clean and crisp sip.
Noble Roots Brewing Company – Fleeting Glory
Any Packers fan knows a win can come easily or it can be snatched away at the last second. Noble Roots has the perfect beer for that: Fleeting Glory. The brewery got its start when the owners, Alex and Marvin Falish, began creating five-gallon beer batches on the kitchen stove. Now they've re-released Fleeting Glory, a hazy New-England-style IPA with Zeus, Belma and El Dorado hops. It's great for both drowning your sorrows and celebrating the big win.
Stillmank Brewing Co. – Wisco Disco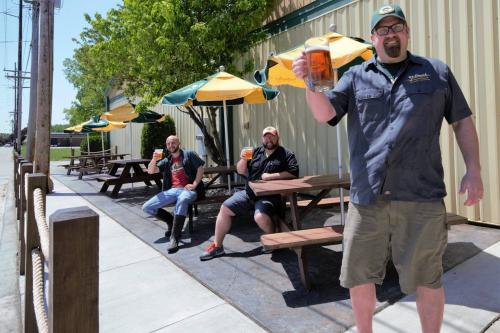 In 2009, Brad Stillmank — the owner of Stillmank Brewing Co. — made history as one of the first 20 people to become Certified Cicerones (the sommeliers of beer). Two years later, he formed his brewery with his wife, Erin, producing the flagship brew Wisco Disco at a brewery in Milwaukee. In 2014, the pair took the beer to Brad's hometown, Green Bay. Wisco Disco is an amber ale brewed with five malts and four hops, and cold conditioned. Don't miss this Green Bay craft beer.
Titletown Brewing Co. – Green 19
This popular brewery leans into Wisconsin's history — both the football and the community aspect of it. Titletown Brewing Co. sits in a late-1800s canning warehouse that the Titletown team renovated. And the beers, like Green 19, are perfect for game day. Green 19 is a citrusy IPA with a lingering unaggressive bitterness that rounds out its classic pale ale flavor.
Game Day
Discover more tailgate traditions to add to your Green Bay getaway.