How to keep a low carbon footprint while having a great time on Green Bay's waterways.
The Green Bay area's rivers, lakes and bay have drawn people to these shores for generations. By planning a low-carbon trip to the shore — one that doesn't add to climate change by depending on fossil fuels while you're there — you'll help preserve these waters and their beauty for future generations.
Walking and Biking
The Fox River State Recreational Trail is one of Wisconsin's most popular trails. It runs south along the Fox River from downtown Green Bay through historic Allouez and into De Pere, before continuing through southern Brown County. A well-maintained paved path in the metro area, the trail gives bicyclists and walkers scenic views of the river. With easy access to nearby amenities like parks, boat landings, restaurants and shops, especially in both Green Bay and De Pere, it makes for a perfect eco-friendly day trip along the water.
While you're in De Pere, take an easy detour off the Fox River Trail through Voyageur Park and onto the De Pere Riverwalk and Wildlife Viewing Pier. Stroll along a working lock for boats, onto Government Island, a Historic District with the old Lockkeeper's House, and then to the Wildlife Viewing Pier. Depending on the season, you can see abundant waterfowl like pelicans, cormorants, geese and ducks, as well as spawning sturgeon and walleye.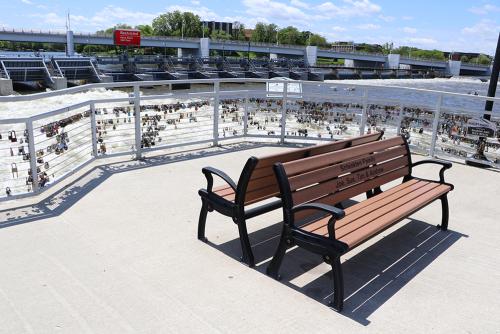 For a more out-of-the-way hike, visit Fonferek's Glen Conservancy Area, located along Bower's Creek in the Town of Ledgeview. The 75-acre conservancy includes a 30-foot waterfall off the Niagara Escarpment, the same rise of land that curves across the Great Lakes to eventually form Niagara Falls near Buffalo, NY. Spring, early summer and autumn are the best seasons to take in the waterfall.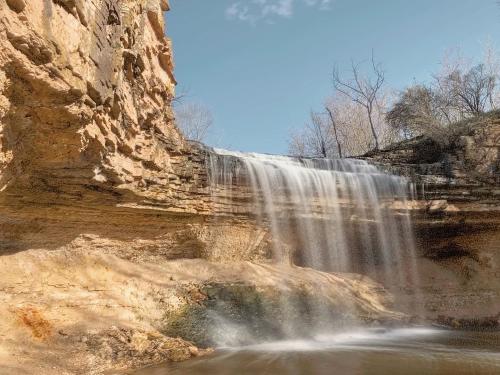 Shore Fishing
The Green Bay area provides wonderful places to catch that "big one" without a boat. Want a small lake or easy place to take kids? You can fish for smallmouth bass and panfish at Lilly Lake, located about 12 miles southeast of Green Bay. The lake has two ADA-accessible fishing piers. Or you can wet your lines at the Bay Beach Wildlife Sanctuary in Green Bay. While you're there, take in the Sanctuary's educational exhibits and learn about the area's abundant wildlife and waterfowl.
Prefer to fish the big bay? Bay Shore Park, about 10 miles northeast of Green Bay, has launching ramps and docks from which you can fish for perch, smallmouth bass and catfish. Don't miss the spectacular views of the bay from the hiking trail along the top of the Niagara Escarpment.
River fishing more your style? In De Pere, Voyageur Park and the Riverwalk have plenty of access to spots along the Fox River. Another popular spot for anglers is the Metro Boat Launch, just west of Bay Beach and on the east side of where the Fox River enters the Bay of Green Bay. At both locations, you can fish for smallmouth bass, catfish, northern pike and walleye.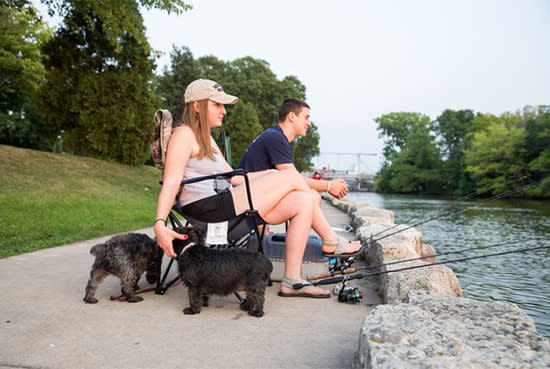 Picnicking and Swimming
There are many picturesque places to picnic along the area's waterways. About 10 miles northeast of Green Bay, Wequiock Falls flow off the Niagara Escarpment from spring into early summer. The county park there has picnic, drinking water and restroom facilities. You can also find an abundance of picnic shelters, tables and spots near the water at Bay Beach. Don't want to bring along your own food? No problem! The beach's concession stand has treats, both cold and hot, for you to enjoy and share.
Combine picnicking and swimming at Ashwaubomay Park in Ashwaubenon. The park's lake has a zero-depth entry sand beach, diving boards, toddler and deep-end slides, floating rafts and a sand volleyball court.
Kayaking
There's no better way to take in the area's waters than by paddling yourself along the rivers and bay. Here are the best spots to kayak on the Fox River, Green Bay and Lake Michigan.
Green Isle Park in the Village of Allouez provides a lovely place to launch a kayak on the East River, which runs parallel to the Fox through Allouez and Green Bay. You can also paddle down the Suamico River, located about 12 miles north of Green Bay. Launch at Fireman's Park and float to where the river flows into the bay.
Get Out & Explore
Lace up your hiking shoes and set off on one of the area's picturesque hiking trails.