As the weather warms, Wisconsin's migrating birds make their way back home. Catch a glimpse of Green Bay's magnificent waterfowl, songbirds, waders and more at these birdwatching hot spots.
A bird-watcher's dream: That's the Green Bay area, especially during spring and autumn migrations. In fact, Green Bay is named a "high flyer" city – a designation earned by only one-third of the communities of registered Bird Cities in Wisconsin. That bodes well for many hours of bird spotting ahead.
Our bird-watching guide will help you look for shorebirds, songbirds, warblers, herons, ospreys, owls, eagles, chimney swifts, hooded mergansers and much more. Perhaps you'll even see the endangered piping plover! Three chicks, born in 2016, were the first to hatch in Green Bay in 75 years.
Perching Solo

Barkhausen Waterfowl Preserve, in Suamico, is on the bay's west shore and a part of Brown County Parks. Within this 920-acre wildlife refuge of forest, marsh and meadows are at least 9 miles of hiking trails, and you can visit the nature center to learn more about the species that make their home at the preserve.
Fifteen miles north of Green Bay and along the Niagara Escarpment, Bay Shore County Park offers panoramic views of the bay as well as excellent birding and 1.5 miles of scenic hiking trails that lead to the water. The escarpment is a geological ledge, formed by erosion millions of years ago, that extends under Lake Michigan and ends roughly 600 miles east — all the way at Niagara Falls.
The 290 acres of Cofrin Arboretum circles the University of Wisconsin-Green Bay and is a natural campus extension for flora and fauna research, field trips, recreation and hiking (on 6 miles of trails). At least 200 bird species have been documented here, making this a choice locale to add to your own bird count.
Beginners Welcome
Bay Beach Wildlife Sanctuary began on five acres in Green Bay in 1936 to aid injured waterfowl. One year later, it won a national award and the city project was able to expand its mission to provide an array of nature education for all ages. Now at 535 acres, it is Wisconsin's second-largest wildlife rehab program. Look for nature trails, waterfalls, and indoor and outdoor nature exhibits (including a raptor trail with aviary).
Baird Creek Preservation Foundation protects and maintains its 500-acre greenway of forest and prairie, plus the 100-acre Baird Creek Watershed. Use online maps to find miles of recreational trails and explore on your own. Sign up the kids for summer camps, participate in volunteer projects, or explore the area on a guided hike.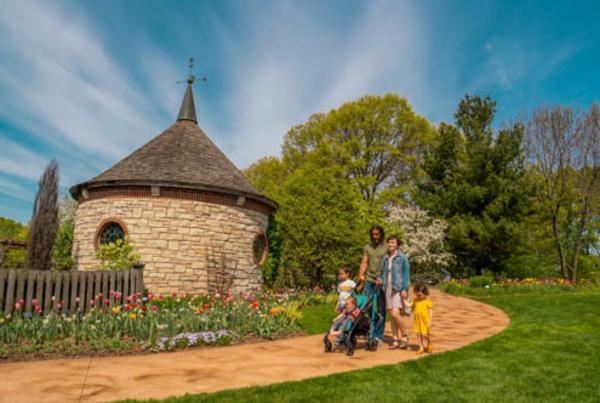 At the 47-acre Green Bay Botanical Garden there are enough binoculars for a classroom of kids or teens to see nature — including birds — up close. At the garden's bird-watching station, you and your crew will find viewing equipment and coaching about how to distinguish one type of bird from another.
A Flock of Bird Lovers
UW-Green Bay hosts the nation's first campus chapter of the National Audubon Society (there are now over 150!). The Oneida Nation — adjacent to Green Bay — recently restored 3,000 acres of fields and streams, ushering in a resurgence of bird species. Elsewhere, Scout troops build kestrel houses and the local Izaak Walton League builds wood duck and mallard houses.
To join in all this bird-watching action, get plugged in to the Bay Area Bird Club, which organizes a Big Bay Birdathon in May, turning bird spotting into a competition. How many species can you spot in 24 hours? Events during Spring's Wings, which coincides with International Migratory Bird Day, might include bird-banding demos by the North Eastern Wisconsin Audubon Society.