Preseason Primer: A Packers' Fan Guide
Why wait for the ultimate Green Bay Packers fan experience? Attend preseason football games and training camps to get a jump on the season.
Fact: At least 100,000 fans are on standby for season tickets to Green Bay Packers games. The waiting list, in place since 1960, shows no sign of waning.  
Fact: Green Bay offers many other ways to get better acquainted with the team and see the pros in action.
Tickets to Packers pre-season football games are roughly one-half the cost of regular-season tickets and much easier to obtain. They go on sale when the season schedule is announced in spring. Even more affordable and accessible is a ticket to Packers Family Night in early August: Players are introduced at Lambeau Field before their full practice with a scrimmage in the stadium. The evening ends with a cascade of fireworks.
Training camp at nearby Ray Nitschke Field is open to Green Bay Packers fans for free in July and August. Watch team drills and small-group breakouts. Arrive early for a bleacher seat: First come, first seated. All others stand. Before practice, kids on bicycles converge near the team locker room, hoping their bike is picked by a player to pedal (or walk) a quarter mile to the practice field while the bike owner carries the Packer's helmet. The endearing tradition, which began in the 1950s, scores big as an up-close and lifelong memory.
The Packers fan experience is unlike any other in the NFL. All fans who come for preseason and training camp action add these prideful fan zones to their pilgrimage.
Lambeau Field
Add a tour of Lambeau Field, where well-versed guides (including Packers alumni, occasionally) have followed the Green and Gold for decades. Many fans from out of state make the trip because Green Bay is no ordinary sports destination: The iconic stadium's reputation, winning team history and longstanding fan-ownership model are unique and hallowed.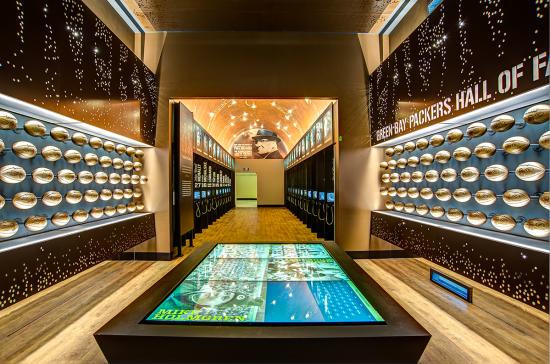 Attached to the playing field is Lambeau Atrium, where signature drinks at 1919 Kitchen & Tap (named after the year the team was founded) include Packers Punch (rum, melon liqueur, pineapple juice) and Curly's Special Ale (like the stadium, named after the team's founder and first coach). Also in the Atrium: Green Bay Packers Hall of Fame, a mix of artifacts, honors, timelines, trivia and oral histories. Touch-screen technology keep stat-happy fans and history buffs content for hours.
Outside are bronze statues that include Curly Lambeau, Vince Lombardi and a life-sized Lambeau Leap end zone scene (jump onto it for a fine souvenir photo). East of the stadium is the Oneida Nation Walk of Legends, 24 engraved granite and steel monuments, capsulizing a century of team highlights and key players. Oneida Nation history is woven into the project too; begin at Lombardi Avenue and South Oneida Street.
Titletown District
Football fans have been drawn to the stadium for generations. With the addition of Titletown District in 2017, the fan experience has become an all-ages playground year-round. Fitness classes and pick-up games happen in the district's plaza and adjacent athletic field. An ice skating loop and snow tubing on a manmade hill provide reasons to linger in winter.
Spontaneous games of horseshoes, cornhole and more are steps from Hinterland, a craft brewery with Packerland Pilsner. Another anchor is Lodge Kohler, an edgy boutique hotel with stylish football décor and the rooftop Taverne in the Sky (where stadium views are awesome, especially at night).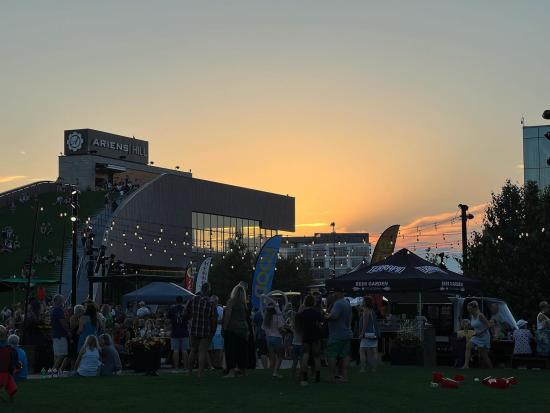 Fans also visit a beloved classic: Kroll's West, in business since 1931. Find the impressive Signature Wall of photos and autographs from celebrities (athletes, actors, politicians). Charcoal-grilled burgers are a draw too, sold indoors and outside on game days.
Notice colorful fence murals along Lombardi Avenue, near the stadium. Artists change tributes and themes every year, but one thing stays the same: deep devotion to the hometown team.
Packers Heritage Trail
That's the case beyond Lambeau, too. Bronze plaques along the 25-stop Packers Heritage Trail, much of it within a walk in downtown Green Bay, pinpoint important but lesser-known Packers history.
See the church where Lombardi attended daily mass and Lambeau's gravesite. Discover Union Hotel (a favored dining spot, especially during the Lambeau to Lombardi eras) and City Stadium (where home games were played 31 years – until 1956).
The trailhead is at Neville Public Museum, the keeper of Packers' oral histories (and a miniature Lambeau Field made with Legos). Nearby is Titletown Brewing Company, which serves Johnny Blood Red, an Irish-style red ale, pays homage to halfback John McNally, one the first Pro Football Hall of Fame inductees in 1963.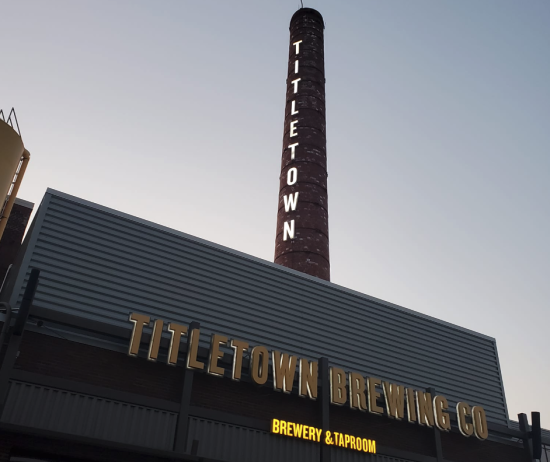 Break up this self-guided tour at Hagemeister Park, a roomy restaurant-bar named after the Packers' first NFL home. Match a microbrew (at least two dozen choices on tap) with pudgy, German-style pretzels and beer-cheese dip while lingering on the patio that faces Fox River.
What an especially excellent base on game day, with or without a ticket. Watch the action on the big-screen TVs or hop a shuttle to the greatest stadium ever built. It's all good because this is Green Bay, a sports town like no other.
Your Football Bucket List
Find more fan-friendly places to stay and play in our ultimate Green Bay Packers fan guide.