Dinner and a movie is a fine way to celebrate Valentine's Day, but this year might be the perfect time to try something a little bit different.
Here are some unique ideas to help you plan a non-traditional date night in Green Bay!
For the Active Couple
If you're athletic or just love a little bit of healthy competition, start your date night out with a game or two of bowling at the Ashwaubenon Bowling Alley. Don't let the shoes fool you; bowling can be super romantic! After that, you could try out a little bit of snowshoeing at the Green Bay Botanical Garden. As long as there's at least 6 inches of snow, the snow trails are open and they'll even provide you with a pair of snowshoes!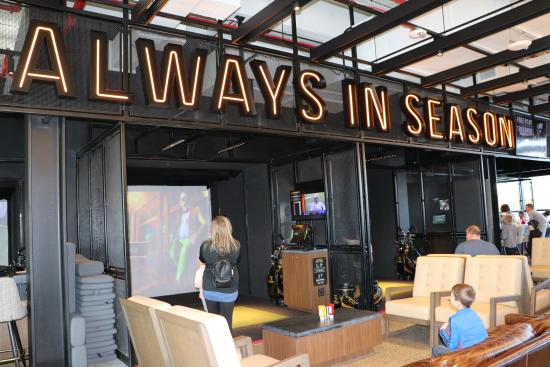 If it's not snowy enough for that, sign up for a Lambeau Field Stadium Tour. It really is a once-in-a-lifetime experience and although it's not a traditional date activity, it'll be something you will remember forever. After the tour, you can head across the street to Titletown and rent out an hour in a swing suite at The Turn!
All that activity will definitely work up an appetite and Nakashima of Japan is a great date night option. You can sit around the hibachi grill and watch the chef cook your food while they dazzle you with their skills. Afterward, head to The Bar for a pint of beer or a cocktail. They have pretty much any drink you could want, plus plenty of games if you still have some energy to burn!
WHERE TO STAY
Aloft Green Bay - This modern, trendy hotel is the perfect choice for couples who like to get up and go! Start your day with a sweat session in the re:charge(SM) gym or challenge your partner to a round of billiards. Then, grab some breakfast before you head out to take on the day! When you get back to the hotel, stop by the W XYZ bar for a craft cocktail and late night snack or take advantage of the 24/7 indoor pool and whirlpool.
For Couples Who Love to Eat
If you're a foodie, you're in luck. Green Bay is a great place to plan a food-themed Valentine's Date! You can start off your day with a stop at Cultivate Taste, a locally owned tea house. Then, once you're nice and caffeinated, head to Seroogy's Chocolates for some chocolate meltaways (because what's more romantic than chocolate?) and then be sure to check out The Revolution Market, a public market located right near Lambeau Field.
After shopping and sampling, it's time for some sipping! Captain's Walk Winery offers an amazing pre-selected wine tasting option at their gorgeous historic downtown location. You can try six wines and one cider for just $7 and no reservation is required.
Time for dinner! Foodies will love the High Gravity Test Kitchen at the Hinterland Brewery. Here, you can try their latest menu ideas, innovative flavor pairings, and chef-inspired experiments. Another great date night option for food-lovers is a'Bravo Bistro. The menu will blow you away and the atmosphere is sure to "wow" your date.
WHERE TO STAY
Union Hotel - This historic hotel is a De Pere staple, and so is their on-site restaurant. In fact, it's considered one of the state's most coveted supper clubs. The boutique hotel rooms feature all the modern amenities you could possibly want, and all of the charm you would expect to find in a turn-of-the-century building. They don't have a website, but you can book reservations by calling them directly at (920) 336-6131.
For Couples on a Budget
Just because you're on a budget doesn't mean you can't have an amazing Valentine's Day with your partner! Green Bay has so many free or low-priced attractions that are perfect for a romantic staycation or getaway.
Start your day with a visit to either the Art Garage or Artless Bastard (or both) to see some original art by local artists! Then, head to Bay Beach Wildlife Sanctuary for a winter stroll (don't forget to say hello to the animals on the Wildlife Habi-Trek Trail). In the Observation Building, you can buy bags of corn for $1 to feed the ducks and geese. It's actually really fun!
Speaking of animals, you might also want to head to the NEW Zoo. There are fewer animals out and about this time of year, but they offer half price admission through the end of February.
For dinner, you should definitely try Little Tokyo if you love sushi. Their rolls are reasonably priced and many locals say they're the best in town! If you're looking for something a little more romantic, try The Bottle Room. You can't beat the ambiance and most of their menu items are priced less than $15 a plate.
WHERE TO STAY
Home2 Suites by Hilton - This hotel is perfect for couples on a budget. The rates are reasonable, but you aren't sacrificing a thing! Every room comes with a full-sized refrigerator, dishwasher, microwave, cookware and utensils, which is great if you want to make your own lunches or late night meals. They also offer a free breakfast buffet (no cold, continental breakfast here), a Spin2Cycle fitness room, and even an indoor chemical-free saline pool!
For a Group of Single Ladies (or Guys)

Valentine's Day can be a bummer if you're not coupled up, but you don't have to sit home and feel sorry for yourself… grab a group of friends and head to Green Bay for a day of fun! Start with a trip to The Automobile Gallery. Trust us on this: even if you don't consider yourself a "car person" you're going to be impressed with their collection!
After that, head over to the Mona Rosa Winery for a wine tasting, or if hard liquor is more your thing, Paradise North Distillery. You can't go wrong with either option! For dinner, we recommend a reservation at Angelina Restaurant, a Green Bay staple for authentic Italian cuisine. If your group wants something a little more casual, Fox Harbor Pub & Grill is another great choice. Their menu literally has something for everyone, from wings to pizza to crawdads!
After dinner, why not catch a Let Me Be Frank Show at the Meyer Theatre? Their satire comedy show, "The Franky Bunch'' is running from February 4th through the 26th. Or, if you would rather put your brain to work, see if you can figure your way out of one of the escape rooms at Green Bay Escape & Axe. It's tougher than it seems!
WHERE TO STAY
Radisson Hotel & Conference Center - You and your friends can stay right near the action with a room or suite at the Radisson Hotel & Conference Center. This hotel is connected to the Oneida Casino, so you can stay up late playing slots and table games, or you can catch the free shuttle to the bingo hall next door. The Radisson has several great on-site dining options, a lounge, fitness center, pool, sauna, and so much more!
Green Bay is the perfect place to spend Valentine's Day — or any other day — with the people you love! Start planning your getaway with a digital copy of our Destination Guide!