Are you planning to spend your Memorial Day weekend in Green Bay? Good news! There's plenty to see and do, no matter how you want to celebrate. Here are some ideas to help you plan your long weekend in Green Bay!
#1 - Attend the Memorial Day Observance at Heritage Hill
Honor those who paid the ultimate sacrifice for our country by attending the special Memorial Day Observance at Heritage Hill State Historical Park. The event starts at 9am on the Garden Patio and will include a special laying of a wreath at the Tomb of the Unknown Soldier. After the event, the park grounds will be open for walking until 4pm. Regular admission rates apply, but members and active military personnel always get in for free.
#2 - Visit the Green Bay Botanical Garden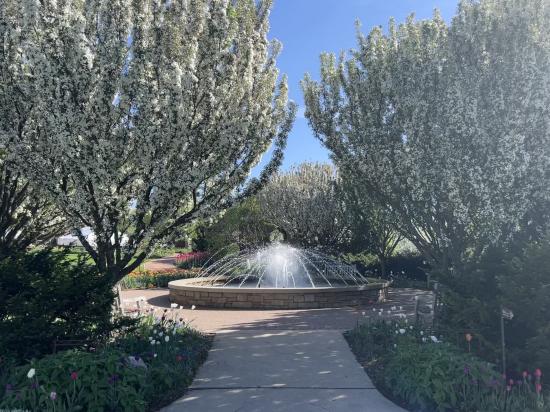 The Green Bay Botanical Garden is always a great place to spend a few hours, but especially on Memorial Day weekend. The weather will be perfect and the blooms will be out in full force! Plus, all military personnel and veterans get free admission to the garden on May 30 from 9am to 8pm. It's a good chance to see the Habitat exhibit, which dives deeper into Wisconsin habitats and how we can help protect them.
#3 - Celebrate De Pere
Celebrate De Pere is an annual outdoor event held May 28-30 at Voyager Park. The event features all kinds of live music, food, activities for kids, a car show, parade, and fireworks! There is also a special Veterans ceremony, which starts at 12:30 pm on Monday in the main stage area. Tickets to get into the Celebrate De Pere event are just $5 and can be purchased on-site at the main gate. It's the perfect way to kick off the unofficial start of summer!
#4 - Play a Round of Mini Golf
Memorial Day weekend is the perfect time to make new memories with the family, and mini-golf is something that everyone can enjoy! Green Bay is home to several mini-golf courses, and they're all equally fun. We recommend either the Duck Creek Golf Center or the Bay Beach Mini Golf, which also has go-karts, batting cages, and an arcade on-site. 
#5 - Get Some Frozen Custard

For some of us, getting frozen custard is an every weekend thing (guilty as charged). But, since Memorial Day weekend is the ultimate signal that summer is near, an ice-cold treat is the perfect way to celebrate. Stop by Zesty's in De Pere for the quintessential summertime experience. Place your order at the walk-up window and then grab a seat on the patio or take your frozen custard down to the river and enjoy the beautiful view.
#6 - Rock Out to Some Live Music
If you're someone who loves live music, you're in luck because there are several great shows taking place over Memorial Day weekend. On May 28, you can catch local blues/rock band The French Irish Coalition is playing at The Lyric Room. On May 29, the iconic band rock 311 at the EPIC Events Center and on May 30, you can see Logan Spicer perform at Stadium View on their Beer Garden Stage. So many opportunities to jam out!
#7 - Hit the Beach in Algoma
Crescent Beach in Algoma is the perfect place to enjoy a gorgeous stretch of the Lake Michigan shoreline. Get your family or friends together for a game of volleyball, or launch your kayaks and spend a few hours exploring the waters! Bring along a picnic lunch, or try out one of the local restaurants near the beach. Before you go, don't forget to snap a photo of the iconic red Algoma Pierhead Lighthouse. Oh, and don't forget your sunscreen!
BONUS: Memorial Day Parade in De Pere
The city of Green Bay does not have a Memorial Day Parade, but De Pere does! You'll also be able to check out the newest addition to the Discover Green Bay squad - our mobile visitors center. Our staff will also be there handing out candy and goodies along the route!