Football season means different things to different people. The fantasy player spends plenty of time tinkering with line-ups. The superstitious fan ensures the same gameday routine so as not to mess up the favorite team's flow. The superfan buys all the latest merch.
Me…I'm just focused on finding the best Bloody Mary to enjoy while watching some quality throw-ball. I like my gameday staple thick and spicy, with lots of fixings, and a beer chaser on the side (duh!). But I keep an open mind and am just in want of a quality Bloody. I've done my homework and am more than willing to share the findings…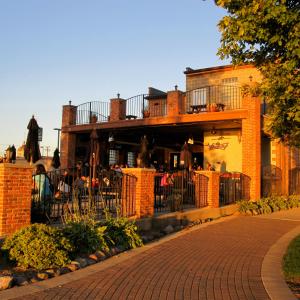 FOX HARBOR
With an outdoor patio along the Fox River, this Bloody Mary is already starting out great. There's something about drinking by the water! At first glance, this Bloody is stuffed with a variety of the classic garnishes – pickled asparagus and mushroom, a pickle, a green olive, pepperoncini, cheese stick, beef stick, celery, and a lemon and sprinkled with a dusting of celery salt.
The lemon garnish is the most evident in the concoction. This is a citrusy-sweet flavored Bloody Mary mixed with Gordon's vodka, having a hint of spicy heat as the drink goes on. Enjoy a beer chaser of your choice on the side. Is there anything better than a citra hoppy IPA on the side of a citrusy bloody? Obviously not!
Cruise down the Fox River and dock your boat just outside the patio gates or pedal down the Fox River Trail for a cool, fall outdoors commute to this Downtown Green Bay Fox Harbor Bloody Mary.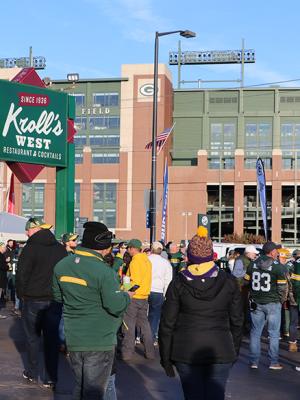 KROLL'S WEST
Nestled between Lambeau Field and Titletown, Kroll's West is a classic diner with a fun gameday atmosphere. One of the most hoppin' tailgate parties, Kroll's West is my go-to for gameday fun. Live music. Butter burgers. And of course a Bloody Mary.
This Zing-Zing Mix and Gordon's Vodka is a pretty traditional bloody perfect for a tailgate sipping. Sometimes simple garnishes allow you to just get right down to the drinking. Of course, you still need to snack on olives and a pickle, though.
Bring your football crew for a Bloody Mary (and chaser) surrounded by Lambeau tradition.
TAVERNE IN THE SKY
This isn't your dive bar football game rail Bloody Mary. This is a classy bar with classy sports decor, serving a chaser in a classy glass, with the classiest of Bloody Marys at Taverne in the Sky, on the fifth floor of Lodge Kohler. If there's one kind of bar who knows how to make a good Bloody Mary, it's a hotel bar! Taverne in the Sky comes through on that pre-conceived notion in a big way.
They use Referent Horseradish Infused Vodka…need I go on? The attention to the detail in the vodka proves the attention to overall quality of the cocktail. Referent Vodka is only available in three states, Minnesota, Georgia, and of course, Wisconsin. The infusion of Horseradish adds a slight burn that should be found in every Bloody Mary.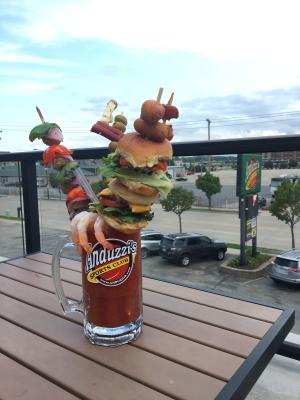 ANDUZZI'S
This behemoth of a Bloody Mary will draw some attention. If you don't want to make a spectacle of your drinking, don't order this. People will look. People will point. People will be talking about you. But mostly, people will be jealous.
This isn't just a gigantic Bloody, but a full meal as well. Bring an appetite. Or bring a friend to help you put down:
1 Hamburger Slider
1 Buffalo Chicken Slider
3 Mini Corndogs
3 Shrimp
4 Wings
A field-goal upright made of cheese, beef sticks, meatballs, and olives
A skewer of peppers, onions, and mushrooms
The Ultimate Bloody Mary is a novelty you can't pass up. If your football team isn't winning, pick yourself up with this Bloody Mary on the rooftop patio of Anduzzi's. And chances are, if you're a visiting fan playing at Lambeau, well, we all know how that's going…
More spots to explore and name YOUR favorite Green Bay bloody mary:
Titletown (Drinks on top of Ariens Hill)