Here's Why Gearheads Gravitate to Green Bay
If you're into all things motorized, or simply can't resist a great tourist attraction with an even greater backstory, then speed ahead to these three destinations.
National Railroad Museum
Railroading past mixed with a multi-gen appeal is what you'll find at this Green Bay railroad museum, the only congressionally designated railroad museum in the U.S.
Must-Sees: True train enthusiasts love that they can explore so many historically significant trains in one location, with 70 pieces of rolling stock on display at the National Railroad Museum. In one sweeping view inside the Lenfestey Center, you can see the Dwight D. Eisenhower Command Train, the Union Pacific #4017 Big Boy steam locomotive measuring over half a football field long and the Pullman sleeper car that tells the story of the porters and their role at the forefront of the Civil Rights movement of the 20th century. Some people venture to the museum just to lay eyes on the futuristic-looking General Motors Aerotrain. To say nothing of the 100,000 artifacts chronicling railroad history.
For Young Fans: Along with exploring the train cars, the Children's Discovery Depot is a popular spot for the under-10 set, with lots of interactive activities to teach them about railroading's past, complete with a model train that chugs along tracks inside the depot.
Book Your Spot: The Polar Express, which runs weekends during the holidays, is a magical re-creation of the classic children's Christmas book. Start with a stroll through the Festival of Trees, followed by a dramatic reading of the book before the conductor calls "all aboard" for a train ride to the "North Pole." Be prepared: Tickets sell fast.
Gift Shop Finds: Browse wooden toy trains for little ones, plus books and signs for grown-up train fans.
The Automobile Gallery
Perhaps the only thing more universal than music in defining the moments of our lives is cars. For that reason alone, you'll want to visit this place that treats the automobile as art.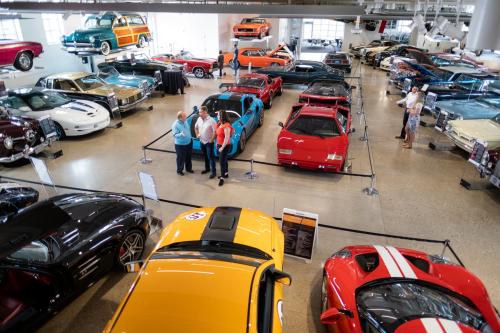 What You'll Find: People from down the street mingle alongside visitors from all 50 states and dozens of countries to see the more than 100 magnificent automobiles on display at The Automobile Gallery. The collection spans more than a century, from a 1912 Maxwell Messenger to the 2020 Ford GT Supercar. There's also a 1987 Lamborghini Countach on permanent loan. One of the most beloved autos is Bart Starr's 1967 Superbowl I MPV Corvette convertible in original condition. Automobiles rotate on a weekly basis and are chosen based on their origin stories. Visitors may be surprised to learn that all cars on display are working automobiles — they're not just trophies.
A Building with History: Late founder and Green Bay native William "Red" Lewis, whose rags-to-riches story and community generosity are rightfully legendary, saw potential in a 1959 building that was once a Denil Cadillac dealership but had long been abandoned.
Donations at Work: Thanks to fundraising events, memberships and donations, The Automobile Gallery in Green Bay is able to pour dollars back into the community, providing scholarships to students in need.
Gift Shop Finds: While you can't buy a car here, you can stock up on everything from apparel to holiday ornaments.
Vandervest Harley-Davidson
The Packers, microbrews, artisanal cheese, frozen custard and snowmobiling — all Green Bay icons. Also worthy of a spot on that list: Vandervest Harley-Davidson.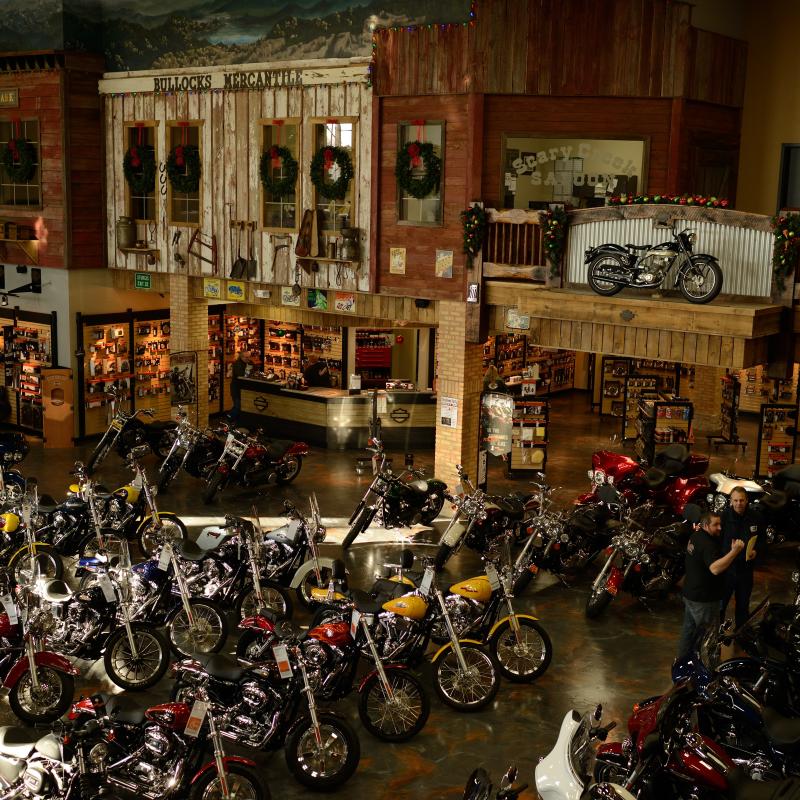 The Backstory: With Harley-Davidson headquartered in Wisconsin, it's no surprise that entire families of riders have an allegiance to the brand. And so it goes with the Vandervest family, with three generations passionate about the open road. It all started when the patriarch got his first brand-new Harley when he was just a teenager. Fun fact: You can find that bike on display inside Vandervest Harley-Davidson, along with special anniversary bikes and even one of Evil Knievel's rides hanging from the ceiling. Indeed, reminiscing about old bikes is a big reason people visit the dealership.
Hangout Spot: It's not unusual to see out-of-towners sporting the jersey of the Packers' opponent that week alongside locals who hang out year-round to talk bikes and plan rides to raise dollars for local charities. Another draw: The dealership's log-and-tin rustic design and deck overlooking Duck Creek, reminiscent of the country vibe of Sturgis, South Dakota, site of those famous Harley motorcycle rallies.    
Rent a Bike and Hit the Road: Choose from eight different models for daily or weekly rentals, then get on the road. There's a bulletin board with tried-and-true route suggestions from the local H.O.G. chapter, helpful for those visiting the area. Chances are your ride will follow the area's many waterways — that could be a run along the entire Fox River, along the bay of Green Bay or even a full tour around Lake Michigan.
Gift Shop Finds: Harley-Davidson die-hards will have a tough time choosing which souvenir to take home.
Plan Your Visit
Our Trip Ideas section has all the details on popular travel itineraries, from family trips to romantic getaways.