Bundle Up: Packers Snow Game Guide
So, you've bought tickets for a Packers game in the middle of a Wisconsin winter, what now?
A Packers game in the snow is just as fun as a Packers game in the sun, just a little colder. Early in the season, fans regularly join all-day tailgaters before the game starts. When it gets cold, Packers fans embrace the cold and consider it the ultimate home-field advantage.
The first, and most important step for a Green Bay winter game day: Layer up! Wearing plenty of layers allows you to shed them as the day warms up. That includes on your head. You might be inclined to add a cheese head to your attire, and who could blame you? On the coldest game days, though, add some green and yellow earmuffs for better coverage.
Now that the cold can't stop you, it's time to plan the day before the game!
Take in Titletown
Located just down the block from Lambeau Field, Titletown offers many methods of enjoying the cold and embracing your inner child while you wait for the game. Put on your snow pants, hat and mittens, and lace up your skates!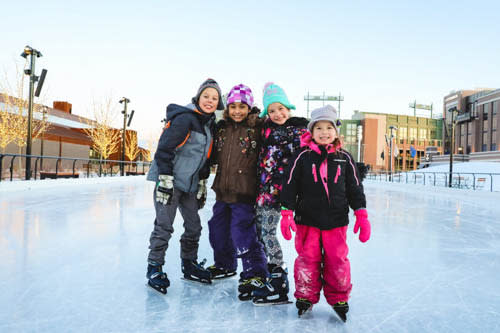 If you don't own a pair of skates, or have never been skating before, Titletown can provide you with a pair for a small charge and provide many helpful tips for free. There is plenty of space to skate the massive rink, and even a charming trail that skims under Ariens Hill, reminiscent of the classic table-top Christmas village.
Losing your balance? Swap the skates for a sled, and head over to Ariens Hill for some tubing! Bring a group of friends or slide solo, just don't miss out on this opportunity to catch some serious speed down the iconic hill.
Ready to warm up? Make your way indoors for the chocolatey goodness of a mug of hot cocoa within the Titletown Plaza. Or head to Hinterland Brewery, which is right next door, but don't spoil your appetite before the big game!
Tailgate Time
Only a couple hours until kickoff, and we've saved the most beloved community tradition for last.
The smells and heat wafting from the many grills either brought in by fans or brought outside by restaurants is enough to make anyone crave a burger or a brat or both. Staving off the cold fingertips, the warm food provides energy for the cheering fans in even the coldest of weather.
Making connections with the many folks in attendance is one of the best aspects of a Packers game. Everyone is there with one common interest — to cheer on the home team. Get talking with your neighbor and you may be handed another brat or a beer. Wisconsinites are friendly that way.
To the Tundra
Once inside the home of the green and gold, be sure you haven't left your blanket or extra socks and mittens in the car, you'll want those for the game ahead. Remember, dry is just as good as warm if snow falls during the game.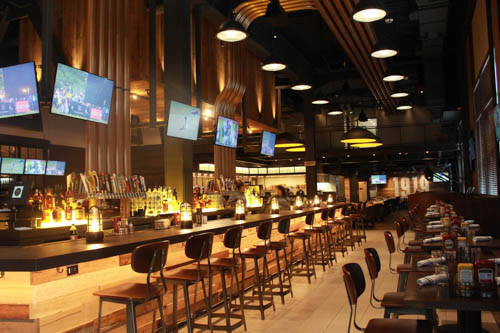 Find your seats and then order your first beer from 1919 Kitchen and Tap's lineup. Copper State's Nitro Peanut Butter Porter will do wonders to ward off the chill.
You did it! Now bundle up with your new friends, and get ready for many, many rounds of, "GO PACK, GO!"
Fan Zone
Discover more ways to make the most of your bucket list trip to Lambeau Field.