Get ready to celebrate! We put together an "ultimate" guide highlighting all of Green Bay's Fourth of July festivities, firework shows, and other can't-miss events happening over the holiday weekend!
If you've never experienced the Fourth of July in Green Bay, you're in for a real treat. We go all out, which means there are tons of opportunities for good old-fashioned summertime family fun! 
The "Fire Over the Fox" event is *the* place to go on the fourth, so we'll outline everything you should see and do while you're there. Then, we'll also throw in some of our top picks for other things you can do in the area over the long holiday weekend!
Festival Foods Fire Over the Fox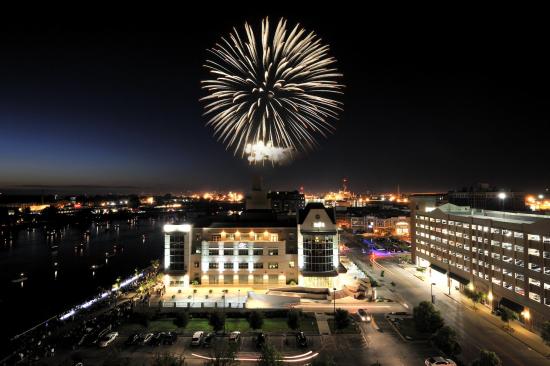 First things first, let's talk about the big event: Festival Foods Fire Over the Fox. There really is nowhere else you would want to be on the Fourth of July! This event is a long-standing tradition in downtown Green Bay, and it's where you're going to find all of the best food, live music, and of course, a MASSIVE fireworks display!
The fun kicks off at 3pm and the fireworks typically start at around 9:45pm. All of the attractions, food, and entertainment will be spread throughout the entire downtown district, including Leicht Memorial Park, Neville Museum, the Main Street Bridge and CityDeck.
If you want to get a front row seat for the fireworks show (and avoid the crowds), there is special VIP seating available along the Fox River for just $12 per person!
Other Things to Do Over the Weekend
If you're planning to spend the Fourth of July in Green Bay, you might as well just go ahead and make a whole weekend out of it! There's lots of other fun things happening during the first weekend of July that are worth checking out. Here are just some of them:
Oneida 48th Annual Pow-Wow at Norbert Hill Center
If you've never attended a Pow-Wow before, you're in for a real treat. From July 1 through the 3, you can watch traditional dancers, singers and drummers of all ages compete in various categories for over $90,000 in prize money. In addition to the competitions, there will be plenty of vendors serving up delicious food and selling crafts and other items that you can't find anywhere else! Bring a blanket (and your appetite) and get ready to be blown away!
Rosalie Morgan at Paradise North Distillery
What's better than enjoying some refreshing drinks on the patio while listening to amazing live music with friends? We can't think of anything! Local singer and pianist Rosalie Morgan will be performing live at Paradise North Distillery on July 3 from 3 to 6pm, and we heard she LOVES taking requests from the audience. So, grab your friends and try a Door County Cherry Smash, a Paradise Style Old Fashioned, or a Coconut Rum Mule and request your favorite song!
Fizzy Firework Wine Flight at Captain's Walk Winery
We have a good one for all of our fellow wine-lovers! All month long, Captain's Walk Winery is offering a "Fizzy Firework Wine Flight" which includes your favorite tart and fizzy candies paired with some of Captain's Walk's most refreshing wines and hard ciders. The winery is located in a beautiful historic home in the downtown district, and the staff is always more than happy to talk to you about all things wine. So, why not stop in and try something unexpected?
Green Bay Rockers vs Wisconsin Rapids Rafters at Capital Credit Union Park
If you need something to do with the family on the Fourth of July before the fireworks start, why not catch a Green Bay Rockers home baseball game? The Rockers are part of the Northwoods League, which is the largest summer collegiate league in the country. It's also "Free Hot Dog Monday" so be sure to grab your free hot dog during the first 90 minutes after the gates open! The game starts at 12:05pm on July 4 at Capital Credit Union Park, located on Holmgren Way.

No matter how you choose to spend the Fourth of July weekend, we hope you enjoy your time in Green Bay! If you need more ideas, check out our "Ask a Local" section here!