Has everyone been feeling a bit restless lately? Don't worry! Not only is Green Bay the perfect place to spend a weekend, we have TONS of ideas to help you and your family kick your cabin fever to the curb!
It can be tough to find opportunities to get your kids up and moving during the cold winter months. Luckily, there are lots of free and low-cost activities in Green Bay that are perfect for families who are tired of being cooped up indoors. So, pack some snacks, bundle up, and head to Green Bay for a fun-filled weekend the whole family will enjoy!
Sledding, Skiing, Snowboarding, and Skating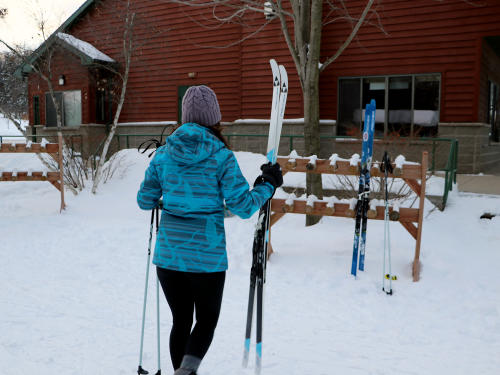 Winter is here and in Green Bay, we don't waste it laying around indoors. We get out and enjoy our parks! The Triangle Sports Area at Baird Creek is one of the best places in Green Bay to do some sledding, skiing, or snowboarding. The 80' sledding hill features a hands-free lift and the two dedicated ski/snowboarding hills each have rope tows. They also have a heated chalet with restrooms and concessions, so you could easily spend a few hours here!
Barkhausen Waterfowl Preserve is another great park located on Green Bay's north side. This is a great place to visit if you want to do a little cross-country skiing. They do not rent skis here, so you will have to bring your own, but they do have over 9 miles of groomed trails that are home to a wide variety of waterfowl, wildlife, and plant species!
Ice skating is another fantastic way to burn off some energy in the winter. Enos Colburn Park has free ice skating and hockey rinks; you just need to bring your own skates. Titletown also has ice skating and they do offer rentals for a small fee (they do also charge an admission fee to use the ice rink). If you want to try something new while you're there, rent one of their ice bikes!
Alright, Who's Ready to Eat and Play?
After a long day spent playing outside, you're going to be hungry. Happy Joe's Pizza & Ice Cream is one of the coolest places for kids. Not only are they known for their signature and create-your-own pizzas and ice cream treats, they have a kid-friendly arcade that will keep your little ones entertained while the pizzas are cooking. Tickets can be turned in for prizes, and what kid doesn't love prizes?
Of course, if we're talking about games and prizes, we have to mention Dave & Buster's, which is located inside of the Bay Park Square Mall in Ashwaubenon. They have a great dinner menu, and they also have hundreds of games that will challenge kids and grown-ups of all ages!
If your kids aren't into arcade games, 1919 Kitchen & Tap is definitely worth checking out. Everyone in the family will enjoy the gastropub-style menu and because it's located inside of the Lambeau Field atrium, you'll have a chance to explore the home of the Packers! You can get your steps in while seeing some Green Bay football history… that's a win/win!
Spend the Night Somewhere Fun!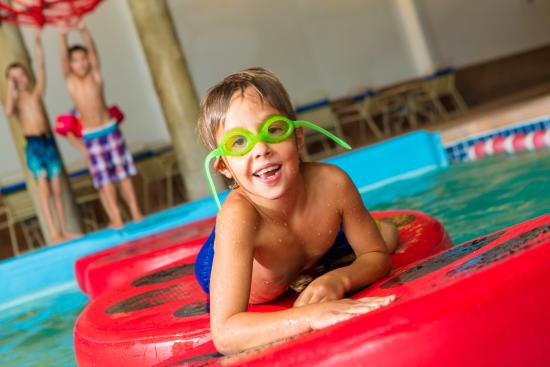 Every weekend trip to Green Bay requires a cool place to stay and there's nowhere more fun for kids than the Tundra Lodge. The rustic suites are roomy and have all the amenities you could want, including waterpark passes! Thrill-seekers will love the Polar Plunge water slides and little kids will never want to leave the Tenderfoot Falls play area. The waterpark also features a lazy river and a massively large arcade!
Tundra Lodge isn't Green Bay's only hotel with a waterpark, though. Delta Hotels by Marriott, which is located just down the road from Lambeau Field, also has a really nice sized indoor pool with a giant water slide and hot tub. Comfort Suites is another great option for families. Their indoor water park features three play areas that kids of all ages will have a blast playing in!
Before You Head Home
After a full day (and night) of playing, we've got the perfect thing for you: more playing! Before you head back home, why not make just one more stop and see what else Green Bay has to offer. Have you ever visited a zoo in the wintertime? If not, the New ZOO is open year-round and there are lots of animals to see, and the zoo even offers special winter rates (half off regular admission) in January and February.
Or, if you haven't had your fill of water parks yet, the Salvation Army Kroc Center offers day passes so you can let the kids run wild in the Splash Play Area! There's a specific area for little kids and older kids will love the waterslide! It actually goes outside the building briefly (don't worry, it's covered). It's the perfect way to wind down a fun-filled winter weekend in Green Bay!
Want to plan your next weekend getaway? Download a copy of our Destination Guide and get the inside scoop on where to eat, stay, and play while you're here!