Are you ready to take your tastebuds on a tantalizing tour through the world of tacos in Green Bay? Whether you're a die-hard fan of a classic Mexican taco or adventurous enough to try the latest fusion creations, this blog is for you. We've done the (very tough) work of scouring the city to find the most delicious, authentic, and downright drool-worthy tacos. Loosen your belt, grab some napkins, and keep reading to find out what our current picks are for the best tacos in Green Bay!
Taqueria Maldonado's is a name you'll see on a lot of local's top taco lists. This place has everything you want when you're looking for authentic Mexican food. With more than ten different types of meat to choose from and your choice of tortilla, it can be tough to decide what to order!
If you want our recommendation, try a barbacoa taco! It's made with tender, slow-cooked beef that's been seasoned to perfection and served with fresh cilantro and onions. They're the perfect combination of smoky, spicy, and satisfying. Oh, and don't forget to save room for dessert so you can finish your meal off with an order of homemade Mexican flan!
Pair With: A Strawberry Watermelon or Blueberry Lavender Margarita.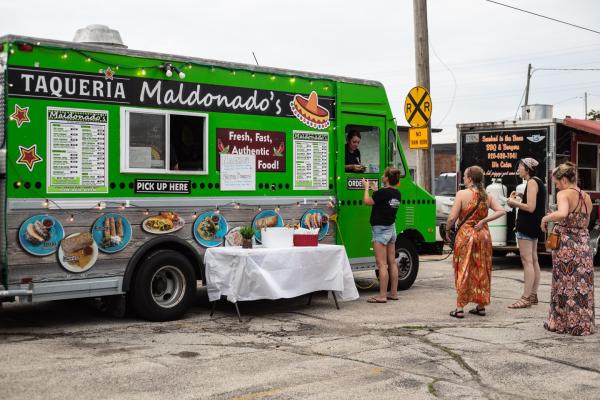 Taco Burrito Mexico has been a beloved Green Bay spot for ages – so much so that they have expanded to three locations throughout the city: Webster Avenue, East Mason Street, and Oakland Avenue. No matter where you are, you're probably near a Taco Burrito Mexico location!
Their menu is chock-full of authentic and affordable Mexican dishes. But, since this post is about tacos, we have to recommend the tacos al pastor. They marinade the tender, juicy pork in a savory blend of spices before grilling it to perfection and topping it with fresh cilantro and onions.
Pair With: A Horchata Rice Water or Modelo
If you're looking to mix up your usual taco night dining experience, look no further than Vintage Cantina, located in downtown Green Bay. With sixteen unique taco fusion options — from the Better BBQ taco to the Grilled Swordfish taco — you'll never run out of new adventurous tacos to sample!
In addition to their menu full of unique fusion favorites, they also feature a weekly taco feature that almost never repeats and is ALWAYS worth trying. And, if you're hankering for something truly unique, we suggest the Korean Beef tacos made with steak, kimchi, fried rice noodles, and scallions.
Pair With: The Fruit Punch Margarita — or, try one of their seven (!!!) other freshly-made options!

When the weather's nice, there's nothing better than a taco in one hand and a margarita in the other. And there's no better place to soak up the sun than on the patio of Caliente La Fiesta Mexicana. Located in De Pere, this lively restaurant is the perfect spot for dinner with your favorite people.
If you're a seafood lover, we recommend you try the lobster taco. This taco combines the classic flavors of avocado, queso fresco, & cilantro lime sour cream with the indulgence of lobster. They also have Bang Bang Shrimp, Cajin Shrimp, and Mahi Mahi tacos!
Pair With: The Jalapeno Marg because who doesn't like things a little ✨spicy✨ sometimes?
La Carreta previously operated as a Mexican snack bar (centro botanero), but recently they've expanded their horizons (and their menu) and opened as a full-service restaurant. They offer a variety of classic Mexican dishes, but their specialty is Taco de Birria and they're not messing around. 
If you've never tried birria-style tacos, they are made with slow-cooked beef that's been marinated in spices and chilies and cooked for several hours until it becomes melt-in-your-mouth tender. Right before you eat them, you dunk them in the rich cooking broth for the ultimate flavor experience.
Pair With: A Vampiro, which is essentially the Mexican version of a Bloody Mary.
Taco 'Bout Choices!
Green Bay is a taco paradise with too many amazing restaurants to list in one blog. If you didn't see your favorite here, let us know! We're always happy to head back out to do more tasty research!