Game-Day After-Party: Celebrate at These Packer Fan Favorites
After the game, fans and locals alike converge on these nearby Green Bay sports bars and pubs for a proper post-game celebration.
Yes! The Packers just won another game! You've probably screamed "Go Pack GO" enough to turn your throat raw, so why not wet your whistle and sooth that throat at one of the many celebration spots around Lambeau Field? The party doesn't have to end until you want it to when you're in Packers territory.
Local Favorites
Follow the flow of loyal Green Bay fans to the local favorite hangouts just beyond the walls of Lambeau Field. Stadium View is often considered one of the very best post-game hangouts because it's right nearby (with the closest parking to Lambeau) and has quick access to all the historic attractions in the area, like the Walk of Legends and the Packers Hall of Fame. There's live music every day and a year-round rooftop bar and outdoor beer garden.
Anduzzi's Sports Club is another local favorite, just a block away from Lambeau. They've got 40 televisions to watch highlights on and a whole party tent just for home game pre- and post-game celebrations. Enjoy live music, kringle sliders, pretzel bites with beer cheese and the company of top-notch fans you won't find anywhere else in the world.
Family Friendly
If game day is a family affair, hop across the street after the final whistle blows to Kroll's West where you can indulge in traditional Wisconsin fare like cheese curds, burgers and chocolate shakes. They have live music on game days and a full bar so you can go over the best plays with the adults while the kids slurp on their small-portion shakes. Don't miss the signature wall while you're there — it's a whole wall full of framed celebrity signatures, including from sports greats like Brett Favre and Santana Dotson.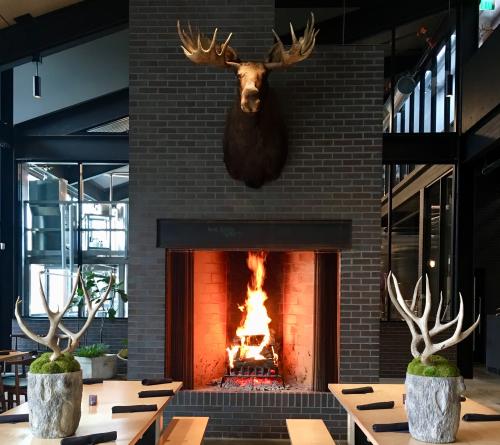 Hinterland Brewery & Restaurant is another family-friendly after-party option, right in the Titletown District. You can get a local brew and order from the Home Game Late Night menu (specific for after the game), and the kids can order from the Young Adventurers menu. The upstairs restaurant, High Gravity Test Kitchen, overlooks Lambeau so you can watch any good post-game action.
For the Over 21 Crowd
The end of the game is just the beginning of the after-party. Head to Burkel's One Block Over, which is (appropriately) a block away from Lambeau field. Packers memorabilia like jerseys and photos jam the walls, and even the bar itself is football-shaped. It's a popular place so expect a big crowd on game days. As far as food goes, gameday favorites like wings, pizza and burgers don't disappoint.
If you want to take your kid-free post-game celebration to another level, head over to Taverne in the Sky for a higher level of service on a higher floor. This restaurant is on the fifth floor of Lodge Kohler in Titletown — and is literally right across the street from Lambeau. The food is upscale, the cocktails are timeless, and you can even buy a celebratory cigar to smoke on the outdoor patio overlooking the stadium.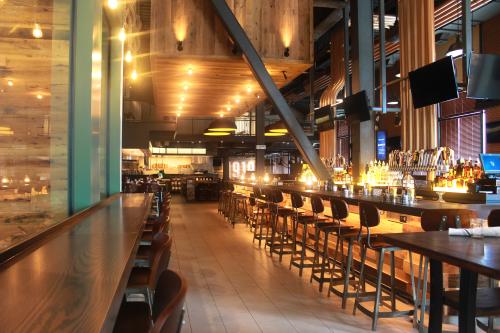 Inside Lambeau
Don't want to leave the stadium after the game? 1919 Kitchen & Tap is open until 10 p.m. daily. It's the only standalone bar and restaurant at Lambeau, serving classic gameday favorites with a twist like parmesan-breaded cheese curds and beer-brat-mac bites. On non-game days, the restaurant is open to all. On game days, you'll need to have tickets to dine (and drink) and to enjoy the fabulous view from the atrium. Ask for the special table — #4 is personally autographed by Brett Favre.
The Night Is Young
Find other area bars and nightclubs to extend game day in Green Bay.