My name is Jaz Singh and I'm a 39 year old high school teacher. I teach high school Social Studies (Economics, History, Geography and Politics) to grades 7-12. My parents are from the state of Punjab in Northern India and they migrated to England in the 1970s. I was born in 1980 and at the age of 27 decided to move to Western Australia. So, I have been living down under for 11 years now.

About Me
As a high school teacher I get a lot of paid time off back in Perth and compared to the UK/USA, teaching is a higher paid profession so I travel around three months every year. Cricket is my favorite sport and out of India, England and Australia, three of the world's top cricket nations, I support England. The most famous and biggest rivalry in cricket is called The Ashes - which occurs between Australia and England.
I have the whole month of January off due to the school's summer break and after the last game in early January 2011, I flew to America from Australia for a three week tour of the country. I was mainly on the west coast, visiting New York and New Orleans. I was watching the NFL playoffs and got interested in the Packers when I saw Green Bay on the map. I did some research and was like "Wow. This is crazy. How does such a small town have such a big following with so many fans from all around America?" They are a great team with a big stadium and an iconic history. I went back to Australia at the end of January to head back to work, but the Packers were still in the playoffs and made it to the Super Bowl and won - I was hooked and have been a Packers fan ever since.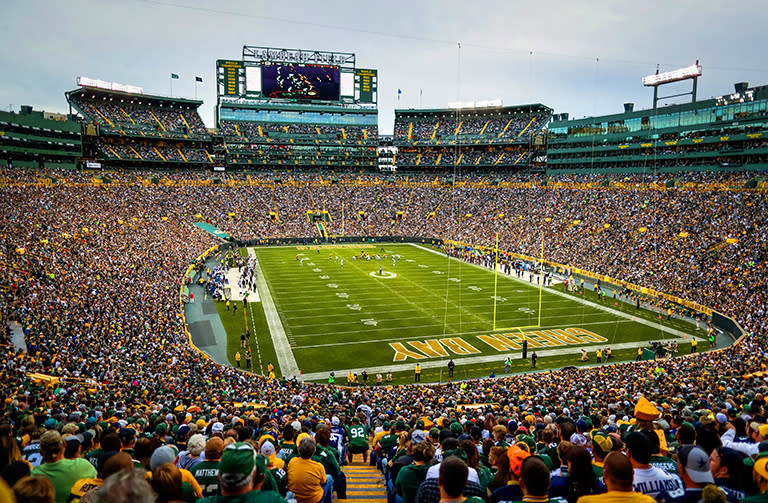 Photo Credit: Green Bay Packers
I decided to visit Wisconsin in January 2013 during my summer holiday. I was walking around town on a Wednesday night and it was so cold and I saw a bar called Keggers open. I walked in and started chatting with the bartender and owner Will. He asked where I was traveling from, and I said Australia. He ended up asking if I wanted to go ice fishing, so of course, I said yes. I met him the next day, caught a fish and made a good mate for life. Later that day I visited Lambeau Field and I fell in love with Green Bay. The people were amazing and everyone was happy that I was in town to see the stadium.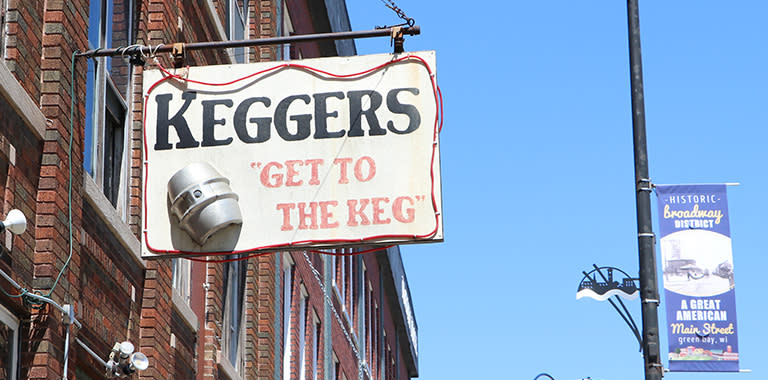 Photo Credit: Greater Green Bay Convention & Visitors Bureau
The following year, I decided to come back for my first game during my spring holiday. It was a Thursday night game between the Packers and Vikings and the Packers won 42-10. It just wasn't the result that was impressive, but the whole pre-game, actual game and post-game experience. Will couldn't attend the game due to work commitments, so put me in contact with Brad, president of the Greater Green Bay CVB. After the game we went back to Will's bar. There, Brad told me of a guy from Australia that sold his house and moved his wife and two kids to Green Bay for a season. Once I heard this I was both hooked and inspired. I thought, "Yes, this is the kind of adventure I need to go on. I'm single, I have no wife, no kids, no commitments. I can do this".

The Game Plan
I went back to Perth and signed up for my employer's deferred salary program. As a Government employee of Western Australia, I can work four years at 80% pay and take a fifth year off at 80% pay. I still came back to Green Bay for the 2015-2018 spring holidays to see a game at Lambeau Field. Will and his family, plus Brad and his wife Sandy were always great hosts, arranging tickets and accommodations, extremely hospitable and generous to a newly found (and Wisconsin obsessed) friend.
I knew that 80% pay might not still be enough, considering I would be doing so much traveling, plus the Australian dollar was deteriorating against the American dollar. So, I saved up by cutting back on expenses. I didn't upgrade my car, moved out of a flashy apartment in downtown Perth and into a small unit in the suburbs. I also cut back on big nights out and eating out at fancy restaurants. Before I left Perth I moved out of the unit and my friend took over the whole lease and I sold my car.
I left Perth on December 14, 2018. I went to India for Christmas to see my family then flew to South America for six months of backpacking. I took a detour to England to see my family again before I arrived in Green Bay on August 7, 2019.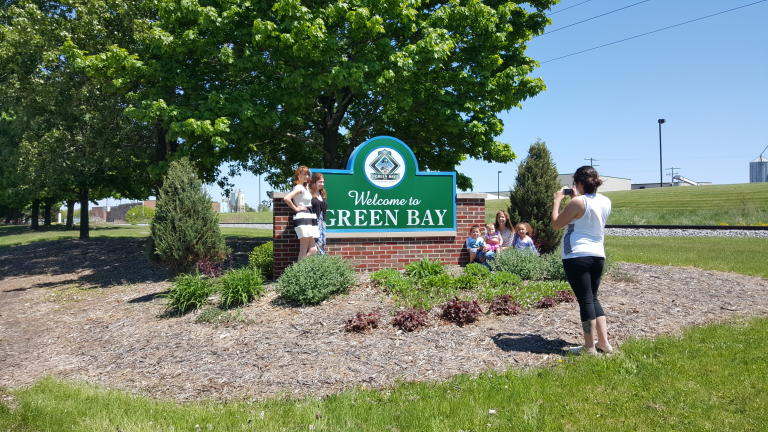 Photo Credit: Greater Green Bay Convention & Visitors Bureau
Arriving to Green Bay, Wisconsin
I didn't have anywhere to stay long term. I was staying with my good friends Brad and Sandra for the first few days. Then I did a road trip to Philadelphia and Baltimore for the Packers-Ravens pre-season game. Then I headed to Washington D.C. and Toronto to see family, then to Winnipeg for the Packers-Raiders pre-season game. I was back in Green Bay for a few days, then off to Tampa for the season opener for the Wisconsin Badgers. Then headed to Florida to catch up with friends, then off to Chicago for the NFL season opener.
For my first month, I only spent a week in Green Bay due to travels. I found a place to live once I got back, but I only stayed there a couple of weeks as it wasn't suitable. Now I'm staying with a host family. They reached out to me on Instagram after my first article was published in the Green Bay Press Gazette. Heather couldn't go to the Packers-Vikings game due to her cancer treatment and kindly donated a ticket to me.
I was around their home a few days before the game to pick up my ticket, and I was telling them I was finding it difficult finding somewhere suitable to live. They offered me their spare room and it's been a great experience so far. I will miss saying goodbye but the friendship will last a lifetime.

My Experience
Apart from watching football games, I spend my spare time traveling between games and around America. After the Cowboys game, I went on a civil rights tour in Alabama and Atlanta. After the Chargers game I went on the Breaking Bad/Better Call Saul Tour in Albuquerque, New Mexico. I have been volunteering at a local high school (Bay Port), dropping in on social studies classes and teaching cricket.
I have also donated my time to Paul's Pantry Food Bank and served drinks for the VFW at the last Farmers Market on Broadway. I also spend a lot of time working on my website/blog and generally like to relax and rest after a busy travel schedule.

The People
I love the people of Green Bay and Wisconsin. They love me because I love them. It's very mutual. I have made so many close friendships that I will miss when I leave. So many Packer fans reached out to me for tailgating experiences, and my top three are The Fromigos, Brad and Sandra Toll's Lambulance and Tailgate Lot 1. The food is a bit unhealthy and so is the drinking culture! But you can't beat the atmosphere at Lambeau, which is why so many rival fans come to a game even if their team is gonna lose, as they want to experience one of the world's best NFL iconic stadiums.
What's Next?
After the last Packers game I am heading to South Africa to watch some cricket and go on some safaris. Then it's on to India to catch up with family, followed by more cricket in Sri Lanka.
I have always wanted to go to Egypt to see the ancient pyramids, so I will be stopping there on my way to England for a cousin's 21st birthday. Then onto Central America for a couple of months of backpacking. Then back to Perth, Western Australia by mid-July as I have to be back to work by July 20.
Going back to work after such an adventure and long time off will be tough. I don't think I will be able to do another vacation as huge as this, but I will continue to come back to Wisconsin for an annual trip to Lambeau Field and hopefully Camp Randall Stadium too.