Aside from our world-famous cheese curds (which we recently wrote about here), brats — short for bratwurst — are often considered the quintessential "Green Bay" food, especially on game day.
Whether you want to stock up on some crowd-pleasing flavors for your tailgate party or you want to order a perfectly grilled brat off of a local restaurant menu, we've got you covered. It doesn't have to be football season to enjoy a juicy sausage!
The bratwurst originates in Germany, and it is typically made with pork and veal and seasoned with spices like ginger, nutmeg, coriander, or caraway. Since Germans were the largest immigrant group to settle in Wisconsin back in the 19th century, it's no surprise that bratwurst has become a staple in our lives — and culture — even today!
So, without further ado, here are the BEST places in Green Bay to experience brat culture:
Grill-Your-Own
Green Bay is home to several talented butchers that specialize in bratwurst. This is where the locals go when they want a "better than grocery store" experience for game day… or any day!
If you want fresh, 100% organic bratwurst in mouth-watering flavors like Bacon Cheddar, Door County Cherry, and Bloody Mary, head on over to Waseda Farms Market. They are the only butcher shop in Wisconsin with their own certified organic farm, and while they don't have walk-in hours, you are welcome to call, email, or visit their website to place an order. Then, simply pick it up at the shop in De Pere on weekdays between 8am and 2pm!
Pelkin's is home to the area's best smokey meats, and that includes their hand-crafted fresh and smoked sausages! They always use USDA Choice cuts of meat, and they have a HUGE variety of flavors to choose from… we're talking over 70 flavors of bratwurst. Yes, you heard that right. Whether you want Cherry Cayenne, Belgian Tripp, Spinach Feta Chicken, or even Asian Pear, you need to make a stop out to Pelkin's Smokey Meat Market and stock up on the good stuff!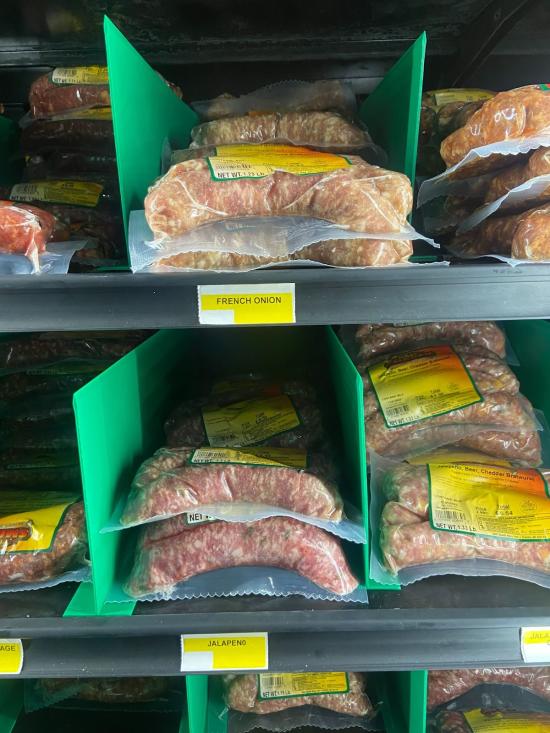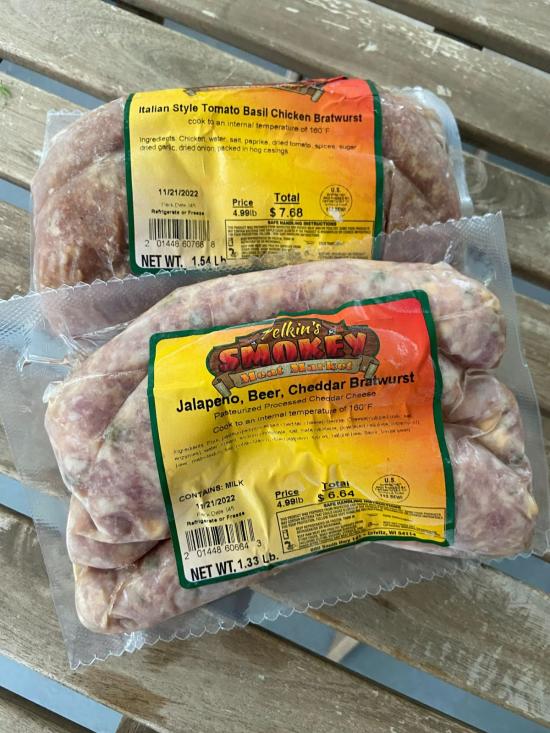 On The Menu
Would you rather have someone cook for you? Totally understandable! Here are some of our top picks for when you're craving a well-cooked bratwurst in Green Bay!
You can't put together a list of grilled food in Green Bay and not include Kroll's West. It is the place to go if you love charcoal-grilled food. Of course, they're beloved for their butterburgers, but their bratwurst is also to die for. They serve it grilled and butterflied on their signature hard roll with butter, mustard, pickles and onions. You can also add sauerkraut for a little bit extra!
This bar and grill has plenty of room to watch the game and a fantastic menu featuring several fun options for brat-lovers. First, they have a Brat & Beer Cheese soup made with Wisconsin bratwurst, onions, honey ale beer, cheddar jack cheese and green onions. Then, for your main course, try the Bratwurst Philly or the Tailgater Pizza, topped with cheese curds, whiskey caramelized onions and, you guessed it, bratwurst!
Looking for a more traditional bratwurst experience? Then you HAVE to pay a visit to the Lorelei Inn, Green Bay's best German-American restaurant. Their Heisse Schlachte Plate includes both bratwurst and knockwurst, steamed with tangy sauerkraut and your choice of German potato salad or potato pancakes! While you're there, be sure to try one of their Hacker-Pschorr beers, or even better, grab a pint of one of Green Bay's local breweries.

Alright, who's hungry for some brats? We look forward to seeing you in Green Bay this summer! Be sure to check out our official Destination Guide, which will help you plan the perfect getaway!